How to Map a Network Drive on Windows 10. For smooth cooperation in today's networked environment, simple access to resources and information shared by several parties is essential. The core technique of "mapping a network drive" enables you to establish a shortcut to a shared folder on a network.
It simplifies accessing and managing files in that shared folder. Learning to map a network drive can dramatically improve your productivity and ease of data sharing.
Mapping a Network Drive: Simplifying File Access
How to Map a Network Drive on Windows 10, involves creating a link between your computer and a shared folder on a remote server or another computer within the same network. This process assigns a drive letter (such as "Z:" or "X:") to the shared folder, making it appear as a local drive on your computer.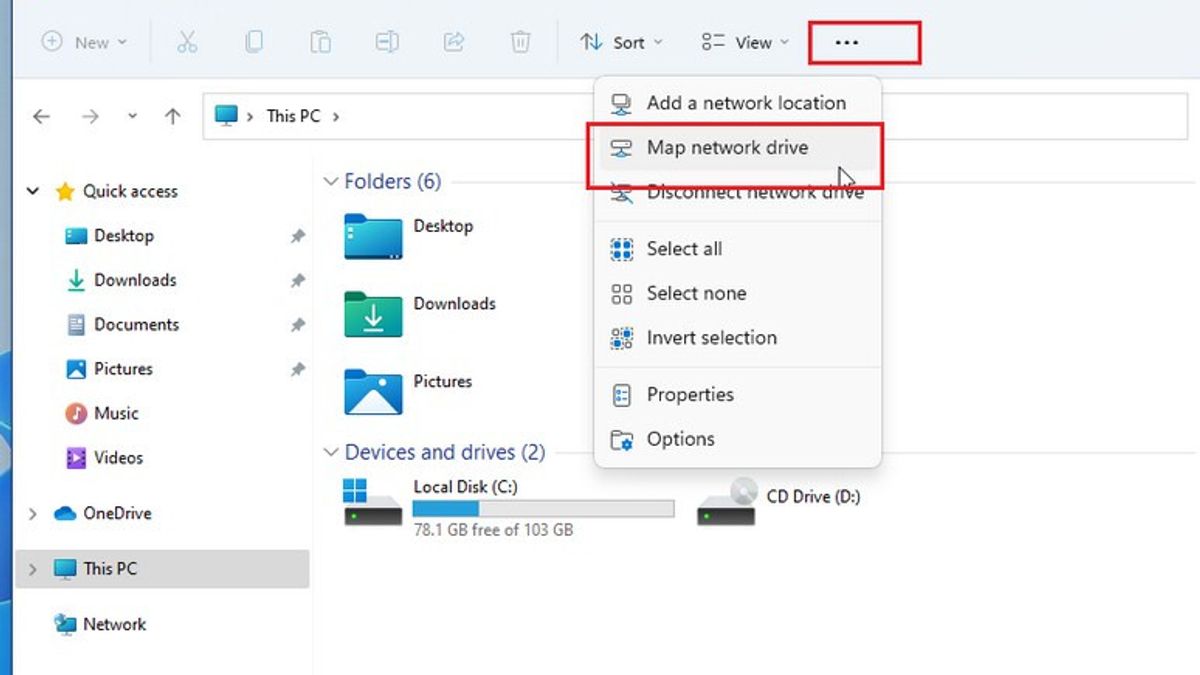 Here's a step-by-step guide on how to map a network drive:
Step 1: Access the Map Network Drive Wizard
Open File Explorer by commanding Win + E or clicking the icon.
Click on "This PC" in the menu of the left sidebar.
Click the "Computer" tab in the top menu and select "Map network drive."
: Select the Drive Letter
Select a drive letter from the pool of available options using the dropdown menu within the "Map Network Drive" process.
You also have the option to "Reconnect at sign-in," which will cause the drive to be automatically mapped whenever your computer starts up.
: Specify the Folder Path
Click "Browse" to locate the shared folder you want to map.
Alternatively, you can manually enter the folder path in the "Folder" field using the format \\servername\shared folder.
: Authenticat and Connection Options
If the shared folder needs authentication, check the box next to "Connect using different credentials."
To conclude the process, click the "Finish" button.
Related Topics
How to Set a Custom Ringtone on iPhone
How to Open JAR Files on Windows 10 and 11
: Access the Mapped Drive
After the network drive has been mapped, you can access it through File Explorer by going to your chosen drive letter.
You will have uninterrupted access to shared files as if they were saved locally on your computer.
Advantages of Map a Network Drive
Mapping a network drive offers numerous benefits that enhance your digital experience:
Efficiency: Quickly access shared files without navigating through a complex network path.
Convenience: Mapped drives remain accessible even when the original shared folder location changes.
Collaboration: Facilitate teamwork by providing all team members easy access to shared resources.
Offline Access: Some network drives allow offline access, ensuring you can work on files without an active network connection.
Mapping a Network Drive: Common Issues and Solutions
While mapping a network drive is generally straightforward, you might encounter a few issues. Here are several issues and the methods to fix them:
Access Denied Error: If you cannot access the mapped disk because of permission difficulties, check to see if you have the required permissions for the shared folder. Get in touch with the administrator of your network for assistance.
Drive Not Reconnecting: If the mapped drive doesn't reconnect on startup, check the "Reconnect at sign-in" option during the mapping process.
Incorrect Folder Path: Double-check the folder path you entered. A wrong path will prevent successful mapping.
Network Unavailable: Ensure a stable network connection if the network drive is unavailable. If using a wireless connection, switch to a wired connection for better reliability.
FAQs
Q: Can I map a network drive to a cloud storage service?
Yes, many cloud storage providers allow you to map their services as network drives. This can be particularly useful for accessing cloud-based files directly from your explorer.
Q: Is it possible to map multiple network drives?
Absolutely. You can map multiple network drives by following the same steps for each purpose. Just remember to assign a unique drive letter to each mapped drive.
Q: Will the mapped drive be accessible on other devices?
Mapped drives are typically specific to the computer where they're set up. However, some advanced network configurations might allow access from other devices on the same network.
Q: Can I remove a mapped network drive?
You can remove a mapped network. You will disconnect a drive in File Explorer by selecting it and pressing "Disconnect."
Q: What if the mapped drive shows as disconnected?
If your mapped drive displays as disconnected, it might be due to network issues. Start by turning your computer back on or checking your network.
Conclusion
Mapping a network drive is a powerful tool for enhancing your file management and collaboration experience. Creating a virtual link to shared folders will streamline access to essential files, boost productivity, and enable efficient teamwork. Mapping a network drive simplifies data exchange in business and personal settings.
The steps may vary slightly based on your operating system and network configuration. If you encounter any difficulties, don't hesitate to seek assistance from IT professionals or online resources.